Linda's Testimonial (Breast Cancer)
Star Throwers has made an immense difference to my life in my journey of recovering from cancer. Having been recommended it by several people I initially didn't want to mix with others who had cancer because I didn't want to talk about how I felt. I wanted to show the world that I could cope and not admit to how frightened I was especially in comparison to some. I felt I'd got off quite lightly, neither needing a major disfiguring operation or chemotherapy and this resulted in feeling guilty when I spoke to others who had.
I eventually went to a nutrition workshop and although I still don't always eat the right things, it did make me realise that I was ignoring my body and not giving it the nutrition it needed.
I have fooled myself into thinking that if I ignored my body's needs then I didn't really have a problem, but I found that listening to other people in the workshop, many of them were feeling the same way as me and I realised that there was help available.
I registered with the nurse, Tina who I found to be an amazingly empathetic, gentle and yet strong individual who encouraged me to talk about how I was coping. Inside I was screaming that it wasn't fair but on the outside – people were saying how well I was coping and she helped me to be honest about it all and that it was okay to think that is isn't fair. Of course it isn't fair but it's the same for everyone.
I next joined a writing therapy group with Jacqui which again gave me an insight into my muddled thinking and a gentle opportunity to use my brain. I followed that with going to Rosie for wonderfully soothing reiki treatments and head massage. I have also had a few sessions of hypnotherapy and was surprised that I relaxed enough to find some benefit. The treatment I am having now is acupuncture with Janet which has helped with my energy and back problems and a good chat as well!
I have been completely overwhelmed with the sensitivity and safe haven that these lovely people offer with their treatments.
Indeed every time I have been to Star Throwers, whoever is 'on duty' including Steven and Victoria, they all give a cheering greeting and offer a cuppa. On cold days there is also a glowing real fire with papers and magazines to read and the invitation to stay as long as you like. I have found that, especially in the early days, so comforting and when you are responding to the overwhelming effects of your condition and vicious treatment sessions, the love and support from all these people (and there are more treatments I haven't touched yet) offer support to enable you to deal with your recovery. It also has to be said that all the therapists do their work on a voluntary basis, although donations are welcome and I find that overwhelmingly generous.
Sam's Testimonial (Breast cancer)
Star Throwers not only supports the cancer patient, but the carers too. It has been a haven of calmness and positivity for me and my husband, with free treatments that helped us through the utterly devastating rigours of chemotherapy, radiotherapy and surgery.
Although I have been given the all clear, I appreciate the therapies that were made available to help manage the ongoing effects that have impacted my quality of life.
Star Throwers demonstrates a consistent level of professionalism which is not always evident in local charities. They manage to provide excellent care to those whose lives have been completely torn apart with the diagnosis of cancer. They have a very capable core team who oversee the facilities, yet do not see themselves as above those seeking comfort and information.
Star Throwers actively assist anyone needing help, sourcing documentation and evidence to support a chosen path or treatment.
With the increase year on year, of people being diagnosed with cancer, Star Throwers provide invaluable benefits to the community, as without their support, many patients and carers would struggle to survive the sheer enormity of what a diagnosis of cancer really means.
Deb's Story (Breast Cancer, Paget's Disease of the Nipple)
2016 was supposed to be a really exciting year for my husband and I as we were eagerly awaiting the birth of our second grandson. However, on 10th December 2016, upon returning home from a family meal, I went upstairs to get changed and as I got undressed I noticed my left nipple looked pink. I saw my GP five days later who thought it wasn't anything nasty, but after trying two  types of prescription creams I was referred to the hospital for a mammogram and biopsy, which was two days before Christmas.
It was on Thursday 19th January that it was officially confirmed that I had Paget's disease of the nipple, a condition that is associated with breast cancer. It felt very overwhelming to receive the diagnosis and of course there were a few tears.
My cancer was treated with two operations. After the second operation I was told they definitely 'got it all'. Of course this was a huge relief for me and my husband and it was at this turning point that I decided from now on there is no looking back, only forward.
I really wanted to start getting "back to normal" but felt I needed some support in doing so. It as at this point I decided to visit Star Throwers to find out a little bit more about them. Prior to this I knew they helped people with cancer but not specifically how.
I was a little nervous as I walked into the centre on Melton Road but upon arriving I was made to feel very welcome.  Someone sat down with me in their homely lounge area to listen to what I had been through. They also kindly explained about the all the services they have on offer for someone in my situation. I was particularly interested in their Cancer Information service, complementary supportive therapies, and especially yoga as I enjoyed fitness activities but didn't feel ready to go to the gym yet after my operation.
I had my first cancer information session a week later, which was very informative, and over the following few weeks I also had an Indian Head Massage and Reiki, and took part in their yoga class, all of which helped me slowly regain my strength; not just physically but also mentally and emotionally.
I felt I was speaking to friends. I came away feeling happy and positive that I would make a full recovery.
In the course of my visits at Star Throwers I have met some wonderful, friendly people who always greet me with a smile. It was lovely to have such kindness and support. I also greatly benefited from speaking to others who were in similar situation to me. Although my family and friends were great, until you have cancer you can never fully understand what people are going through. Just talking to others in my situation really helped.
Currently, I'm trying to live life to the full and do things now instead of putting them off, as I feel I've had a wake up call with having cancer. It's definitely made me appreciate life and how quickly things can change. I am also an events volunteer for Star Throwers, helping them run stalls at various events.
Thank you to Star Throwers for their support in my recovery.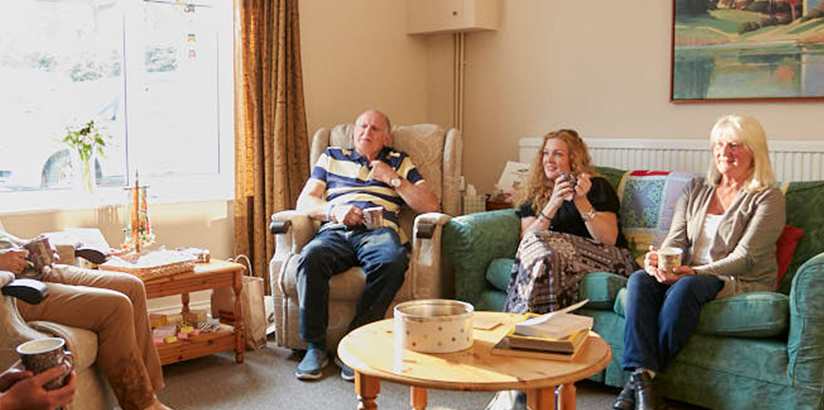 Jane's Story (Stage 3 Breast Cancer)
I was diagnosed with stage 3 breast cancer with lymph involvement in 2016. I had left mastectomy and level 2 lymph clearance, chemotherapy and radio therapy. All of my scans where clear. This treatment finished in 2017. I have a little lymphoedema in my left arm which has been treated here by Tina with great results. I had a friend who told me about Star Throwers, and once I was well enough I came along, as I was feeling very lost with everything that had happened, and processing it all was very hard.
I had many sessions with Jacqui, the counsellor, who has been amazing; listening and guiding me at times to look at what losing a breast meant to me. I then decided to go for breast reconstruction which I had in August 2018. The support I received at Star Throwers has been paramount in my recovery not only from the volunteers but also finding new friends who are on either the same or similar journeys. I have found my femininity and a new life. All the therapies here are amazing from massages, reiki, reflexology – they have all played a big part in my recovery.