Star Throwers is now offering free Cancer Nutritional Care Packages thanks to generous grants from The National Lottery Community Fund and the Aviva Community Fund.
These free individually tailored cancer nutrition packages will be offered to those who have received a cancer diagnosis or are recovering from cancer and have benefitted from the charity's current nutrition support sessions. Star Throwers currently offer talks, one-to-one sessions, and group Q&A sessions on cancer nutrition with an experienced and registered Nutritional Therapist who has been working with the charity for the past 5 years.
The team at Star Throwers worked with patients who had attended nutritional support sessions with the charity and consulted with them on the items to be included and what they have found beneficial to them to enable them to make positive nutritional changes. The items are intended to be used with the new 'Star Throwers – Recipe Booklet' which has been put together by the Nutritionist, Edwina Green – containing recipes based around the Mediterranean style diet, which is anti-inflammatory, colourful, flavourful, and rich in plant-based foods.
One of the service users, Aisha Alley, who helped with discussions on items, said of the nutritional service:
"I was introduced to Edwina, the Nutritionist, who was so helpful and lovely to talk to. I really appreciated the personalised written report that she provided me with at the end of our meeting as I was able to refer back to it. (I make sure I have a side portion of cruciferous vegetables every evening!!). I found the nutritional service so informative. Edwina tailored her support around my personal concerns. She explained the risks of certain food groups, in particular sugary foods. We all know sugar is bad but it was interesting to understand that cancer can use sugar as fuel. I think it is important for cancer patients to have access to this service so that they can make informed lifestyle choices."
The nutritional care packages contain over £100 worth of items tailored to each individual's nutritional requirements which have been recommended by the Nutritional Therapist. The items included in the package:
Pick & Mix Recipe Plan
Herbal Teas & Tea Caddy
Herbs/Spices to add into cooking
Lavender wheat bags
Lolly moulds with recipe ideas
Cooking oils
Bamboo cutlery set
Lip Balm
Notebook & Pen
Protein powder
Flavoured drink drops
Silicone straws
Vitamin D spray
Bag of nuts
The items have been chosen with the patient and the environment in mind, sourcing local and reusable items where possible. Several items have been sourced locally with the lavender wheat bags from Norfolk Lavender, the oils from Yare Valley Oils and the herbs/spices and nuts from Reno Refills.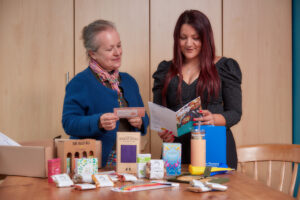 The packages will help start the patient on their 'nutritional journey' – providing a positive boost and focus for them at the time of a cancer diagnosis and in taking their next steps. Making simple nutritional changes means that those affected by cancer can take back some control over their lives at a time when they have to passively accept and endure multiple treatments.
We hope that by providing these nutritional care packages we are enabling our service users to continue to develop an interest in nutrition and its benefits in supporting themselves at a time of a cancer diagnosis and beyond. The care packages will be provided and delivered free of charge, limiting any financial burden that implementing initial nutritional changes might incur.